Las Vegas features many classic and tastefully preformed burlesque and showgirl productions.  For visitors and locals desiring the experience of the old school style of showgirl productions that are synonymous with Las Vegas, Jubilee at Bally's is the longest running show of its kind.  Jubilee is a Donn Arden production with a cast of 85 performers which incorporates singing, dancing, acrobatics, magic and marvelous costumes and sets.
This extraordinary theatrical performance, true to Vegas in its sheer overabundance and excess, is a must see for anyone hoping to experience part of the original foundation of Las Vegas.
The cornucopia of showgirls with glitzy costumes, jewelry, props and gargantuan headdresses adorned with rhinestones and feathers is a sight to behold.  Meticulously choreographed it seems impossible that with so many performers on stage simultaneously the dance routines are executed with such ease and grace.   Although showgirls outnumber the showboys I was surprised to see so many nicely toned and 'quick on their feet' entertainers to satisfy all sexes and preferences.
The Bally's theatre is elegant and has drink service throughout with excellent views of the many stages.  The main stage is complimented with side stage action and story lines.  During select routines the use of top balconies, as well as two lowering platforms that hover over the audience, added an element of excitement and the unexpected.
Perhaps it is that I did not expect much more in the way of entertainment beside the performers and costumes but the sets are striking.  Two particular story lines that stood out are the Samson and Delilah sets which spanned from an elaborate royal palace, a seductresses boudoir, a ominous dungeon and finally pillars and temples that collapse right before your very eyes complete with fire, smoke and sparks.
Act five is a reenactment of the final night on the Titanic.  I don't think it will be giving anything away to divulge that the ship sinks and to see the set break in two, as water pours across the stage and finally disappears, is a spectacular sight to behold.  One must keep in mind that Jubilee has been performing this Titanic scene long before the film by the same name became part of hollywood culture.
With never a dull moment between the seven act show are stunning displays of strength, agility and synergy.  A two man act that has the men contorted and balance in unbelievable positions is a particular stand out.  The ribbon act, an acrobat simultaneously keeping himself elevated while spinning around in the air, had me wishing I could fly.
This show is over the top theatrics, colorful with no detail spared with sets, costumes and props.  The showgirls and showboys give an excellent and dazzling performance and most importantly seem to be having fun!
The show runs twice daily and on Saturday evening the early show features a non-topless performance.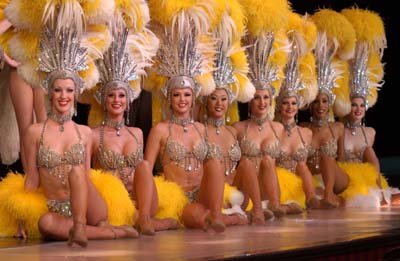 RESERVATIONS
1-800-237-SHOW (7469)